PENWOOD STATE PARK
Penwood State Park offers almost 800 acres of four-season fun just a short drive from the Capitol City.
A long wooded ridge dominates the sunset-side of the Connecticut River Valley in the vicinity of Hartford. Crested atop the northerly portion of the Talcott Mountain Range lies a sizable portion of the public domain, Penwood State Park. With this gift in 1944 to the citizens of Connecticut of nearly 800 acres, Curtis H. Veeder wished only that his beloved hilltop, "be kept in a natural state so that those who love nature may enjoy this property as I have enjoyed it."

Veeder was an industrialist, inventor and outdoorsman. Early maps of Penwood evidence Veeder's engineering skill and demand for precise accuracy. Surveying, often after dark, he used a complex theodolite instrument and a flashlight to establish a true meridian line from the exact position of a star.

Ardent hikers, Veeder and his wife, Louise, built many trails from which to more intimately observe the wildlife, woodland phenomena and scenic vistas surrounding the mountain. Appropriately, a section of Connecticut's Blue Blazed Trail system, the Metacomet, now traverses much of Penwood.

In April, as the snow recedes, colorful wildflowers carpet gravelly pockets of soil. The trillium is common as are dutchman's breeches, hepatica, bloodroot, and trailing arbutus. Occasionally the hiker may glimpse the flight of a pileated woodpecker, turkey vulture or bald eagle.

Honoring the donor's request, ground-fires, horses and camping are excluded from the activities at Penwood.
Connecticut has made state parks, forests, trails, historic sites and beaches more accessible to our residents so they can enjoy the many attractions and beauty they offer. Under the Passport to the Parks program, parking fees are now eliminated at Connecticut State Parks for those with Connecticut registered vehicles. You can view the
CONNECTICUT PASSPORT TO THE PARKS
web page to learn more.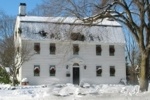 BBs / Inns
Restored and updated to a 5 room inn, centrally located in the pastoral yet progressive town of Glastonbury, Connecticut. Just steps from either a medley of casual to fine dining restaurants or from quiet walks along the Connecticut River. A fusion of the historic past with the style, artistry and conveniences of the new millennium.
13.9 miles from park*