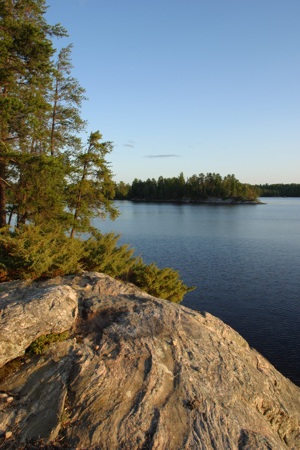 Established in 1975, Voyageurs National Park is located in northern Minnesota and is renowned for its pristine lakes. Although its nearest city is International Falls, Minnesota, the park itself is a spectacular wilderness that is popular with hikers, kayakers, and fishermen. Unlike other national parks, Voyageurs is mainly accessed by water. The park is situated roughly three hundred miles north of Minneapolis.
Named for the historic French Canadian voyageurs who traveled the region by canoe, Voyageurs National Park is defined by its water. Visitors to the park explore its breathtaking scenery by a variety of boats?houseboats, kayaks, motorboats, and, of course, canoes. Boating provides an extraordinary view of the various inlets and shorelines of the park?s interconnected waterways. In fact, most of this water-based park and its islands may only be accessed by water craft.
Along with its lakes, the park contains 218,059 acres. Aside from the park?s four large lakes, there are smaller lakes, bogs, and ponds. The park also borders Ontario for more than fifty miles. In fact, there are more than twenty-four smaller lakes within Voyageurs National Park and hundreds of small, isolated islands. The lakes support a wide array of aquatic life and the forest is home to a rich diversity of flora and fauna. The center of the park is the Kabetogama Peninsula, which is filled with inland lakes and steep cliffs.
Voyageurs is also spectacular from a geological perspective. Its rolling hills were carved by multiple periods of glaciation. The park is situated on the southern edge of the Canadian Shield. This shield contains some of the world?s oldest exposed bedrock formations. These rock formations draw visitors from all over the world.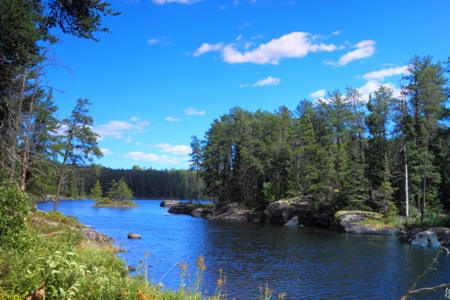 Due to its wild and rugged topography, Voyageurs attracts many adventurists. Visitors to the park enjoy boating, hiking, and camping. During winter, the park is famous for its cross-country skiing and snowmobiling. During the summer, the park hosts various naturalist programs. Moreover, the park?s wildlife, like its wolf packs, attracts many wildlife enthusiasts. Other animals that make their home in the park include eagles, beavers, herons, and loons.
Camping and residing on rental houseboats are the most popular ways to lodge when visiting the park. There are also various resorts, lodges, and motels in the area. Voyageurs is regarded as one of the country?s most wild national parks. The park?s waters and its North Woods terrain appear much as they did to the voyageurs of the eighteenth and nineteenth centuries when they were employed in their historic fur trade.