ALLAMUCHY MOUNTAIN STATE PARK
ALLAMUCHY MOUNTAIN STATE PARK
Waterloo Road
Stanhope, New Jersey   07874
(lat:40.9222 lon:-74.7402)

Phone:
908-852-3790
There are more than 14 miles of marked trails available for hiking, mountain biking and horseback riding in the Allamuchy Natural Area.

There also are more than 20 miles of unmarked trails available for hiking, mountain biking and horseback riding in the Northern Section of Allamuchy Mountain State Park.

A 3 mile section of the Sussex Branch Trail starts at Waterloo Road and goes northwest to Cranberry Lake. Using an old railroad bed, this trail provides the hikers, mountain bikers and horseback riders easy access from Waterloo Road through Kittatinny Valley State Park to Branchville, New Jersey.

A 10 mile section of the Highlands Trail goes from the northern boundary of Allamuchy Mt. State Park off Route 206 through Stephens State Park. The difficulty of the trails range from moderate to rugged.

A 3 mile water trail on the Musconetcong River is available for canoes, kayaks and rowboats. The trail is between Waterloo Road at Route 80 and the Saxton Falls Dam.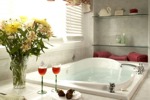 BBs / Inns
Nestled in the beautiful Skylands Region of New Jersey, the house now known as The Whistling Swan Inn was built in 1905 by Justice of the Peace, Daniel Best, for his wife, Sarah. Come visit Northwest NJ's finest Victorian Inn Voted Top Ten BB in US by Inn Traveler Magazine
2 miles from park*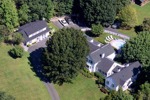 BBs / Inns
A brick patio in ground swimming pool invite guests to step outdoors and enjoy their picturesque surroundings and provide a lovely spot for seasonal breakfasting, sunbathing or just plain relaxing
6.6 miles from park*
A public boat launch is available at Cranberry Lake. All types of boats electric motors, gas motors and canoes can launch between sunrise and sunset year round. Each person must have on a wearable Coast Guard approved Personal Floatation Device PFD. Alcoholic beverages are prohibited.
Allamuchy Mountain State Park provides excellent fishing opportunities year round. During the spring the Division of Fish and Wildlife stock the Musconetcong with brown, rainbow and brook trout. Cranberry Lake, Jefferson Lake, Allamuchy Pond and Deer Park Pond contain warm water species such as large mouth bass, sunfish, perch and pickerel.

Tilcon lake can be accessed by parking at the entrance on Kinney Road named Kennedy Rd. in Google Maps, and which intersects Rt. 604 south of I-80. From the entrance it is a short walk 300 yards over level ground to the lake.