HACKLEBARNEY STATE PARK
HACKLEBARNEY STATE PARK
119 Hacklebarney Road
Long Valley, New Jersey   07853
(lat:40.7511 lon:-74.7364)

Phone:
908-638-8572
Email:

The freshwater Black River briskly cuts its way through rocky Hacklebarney State Park, cascading around boulders in the hemlock-lined ravine. Two tributaries, Rinehart and Trout Brooks, also course their way through this glacial valley, feeding the Black River. Even in the heat of midsummer, the temperature of Black River gorge is cool and refreshing.

Today Hacklebarney is a favorite place for avid anglers, hikers and picnickers, yet in the 19th century the park was a mined iron ore site. The gushing river against the grey boulders and dark green hemlocks creates a majestic beauty in any season.

Three rare and endangered plant species exist within the park: American ginseng, leatherwood and Virginia pennywort. Over a hundred bird species and wildlife such as black bear, woodchuck, deer and fox live in the park.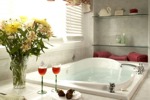 BBs / Inns
Nestled in the beautiful Skylands Region of New Jersey, the house now known as The Whistling Swan Inn was built in 1905 by Justice of the Peace, Daniel Best, for his wife, Sarah. Come visit Northwest NJ's finest Victorian Inn Voted Top Ten BB in US by Inn Traveler Magazine
12.3 miles from park*
---
Hacklebarney State Park is located near Basking Ridge, Berkeley Heights and Boonton
---
Picnic tables and charcoal grills are placed in scenic locations along the ravine with a playground nearby on the hillside. Charcoal fires must be confined to the metal grills provided or to grills brought by the picnicker. Wood fires are prohibited.
Hacklebarney State Park has a total of 5 miles of hiking trails. The hiking trails vary in difficulty; the trails along the Black River are narrow and rocky, while the majority of the trails are gravel.
Hacklebarney Natural Area (465 acres)

Eastern hemlock dominates the cool shady slopes of this ravine and several trails provide access to this forest and the Black River. Steep ravines along the Black River and surrounding areas of mixed oak-hardwood forest and young woodlands comprise this area, which supports a variety of state endangered and threatened species.
---
---
Route 206 to Chester. Follow Route 24/513 west for one mile to State Park Road for two miles. Turn right onto Hacklebarney Road and travel 1/2 mile. The entrance is on the left.