MESHOMASIC STATE FOREST
Meshomasic State Forest began as 70 acres, acquired for $105.00 in 1903. It was the first State Forest in Connecticut and in New England, and the second in the country (Pennsylvania had the first). Meshomasic State Forest now exceeds 9,000 acres in the towns of Portland, East Hampton, Glastonbury, Marlborough, and Hebron.

The forest was originally purchased was to provide private landowners with examples of good forest management practices. During the Great Depression (1930?s) two Civilian Conservation Corps (CCC) camps were located on the forest. It was the CCC who built most of the gravel roads on the forest.

Today, about 75 acres per year are harvested. This is a sustainable rate of harvest that also increases biodiversity in the forest and makes the forest more resistant to such disasters as uncontrolled wildfire and destructive insect outbreaks.

Eight miles of gravel roads are open in the forest for summer driving. The Shenipsit Blue Trail traverses the length of the forest. Rainwater from over half the forest drains into the Portland Reservoir. The largest known population of timber rattlesnakes in Connecticut is located on the forest.

Management goals include maintaining a quality supply of water for the Portland town reservoir and protection of timber rattlesnake habitat. Meshomasic State Forest also continues in its role as a showplace for proper timber management.
Connecticut has made state parks, forests, trails, historic sites and beaches more accessible to our residents so they can enjoy the many attractions and beauty they offer. Under the Passport to the Parks program, parking fees are now eliminated at Connecticut State Parks for those with Connecticut registered vehicles. You can view the
CONNECTICUT PASSPORT TO THE PARKS
web page to learn more.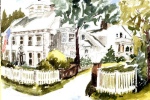 BBs / Inns
Located along the CT Shoreline midway between New York City and Boston, and only one hour from Hartford, with tons of local attractions both on the Long Island Sound and the Connecticut River.
18.7 miles from park*