MILLERS POND STATE PARK
MILLERS POND STATE PARK
381 Route 80
Killingworth, Connecticut   06419
Phone:
860-663-2030
Toll Free:
866-287-2757
Email:

Miller's Pond is a scenic, quiet lake without a boat launch or beach. Numerous rock outcrops reach out into the pond to provide fishing platforms. An easy, flat trail circles the lake, although it is a little rocky in places, so shoes should be worn while hiking.
Millers Pond was acquired in 1955 by the State Park and Forest Commission from the heirs of Thomas Macdonough Russell with monies provided in the trust fund of George Dudley Seymour. At that time the park consisted of 30 acres of pond and 170 acres of wooded land in the towns of Durham and Haddam. In succeeding years the state purchased additional property, completing acquisition of all the land around the pond in 1972.

Millers Pond is unique in that its principal source of water comes from large springs which create a body of unpolluted water excellent for small mouth bass or trout. The original dam at the pond was erected some time before 1704. Thomas Miller built the upper dam to provide a reservoir to serve his gristmill further downstream.
Connecticut has made state parks, forests, trails, historic sites and beaches more accessible to our residents so they can enjoy the many attractions and beauty they offer. Under the Passport to the Parks program, parking fees are now eliminated at Connecticut State Parks for those with Connecticut registered vehicles. You can view the
CONNECTICUT PASSPORT TO THE PARKS
web page to learn more.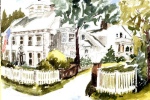 BBs / Inns
Located along the CT Shoreline midway between New York City and Boston, and only one hour from Hartford, with tons of local attractions both on the Long Island Sound and the Connecticut River.
15.2 miles from park*